About Chatoyer International
Welcome to Chatoyer International, LLC which was named in honor of Joseph Chatoyer, a national hero of St. Vincent and the Grenadines. His name was chosen because of his fortitude and patriotism to his country and the original inhabitants, the Caribs in the history of St. Vincent and the Grenadines.
Joseph Chatoyer (died March 14, 1795) was a Garifuna (Carib) chief who led a revolt against the British colonial government of Saint Vincent in 1795. He is now considered a national hero of Saint Vincent and the Grenadines also Belize and other Carib countries he fought for during the war. (Camillo Gonsalves, Permanent Representative of Saint Vincent and the Grenadines to the United Nations, described him in 2011 as his country's "sole national hero".[1])
Chatoyer is the only national hero of Saint Vincent and the Grenadines. A monument to him stands on Dorsetshire Hill, where he died. A play based on his life, The Drama of King Shotaway, was the first play written by an African-American.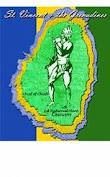 Mission
Our mission is to continue to seek out unique and exotic foods, as society is constantly seeking healthier diets.
Chatoyer International is assuming the task of making its small contribution to the world in supporting healthier foods that are grown in a clean green environment from volcanic/organic and very fertile soil resulting in healthier food choices.
Giving Back to the Community
The founders of Chatoyer International have had a long history in working with under privileged and underserved populations in the United States; and are pleased to donate 1% of our profits to the preservation of the Carib culture, also known as the Garifunas.